Michael Hall Virtual field trip and Giveaway
On April 22nd, two lucky classrooms received a visit from children's author, Michael Hall. 
FluentSeeds teamed up with Michael Hall to bring an interactive virtual experience to two SEEDS of Learning classrooms. FluentSeeds hosted a social media contest for all SEEDS of Learning certified educators. Teachers posted photos and videos of themselves demonstrating their favorite SEEDS strategy. The two big winners were Ms. Connie Lam from La Escuelita Elementary and Ms. Andria Kemp from Emerson Elementary. 
In addition to the virtual field trip, FluentSeeds gave away 47 copies of Hall's book Red: A Crayon's Story to each student, teacher, and tutor and four packs of accompanying vocabulary cards to the educators as well. 
Michael Hall is a SEEDS favorite author. Many certified educators use Hall's children's book, A Perfect Square, for Repeated Read Alouds in their classrooms.
Red, A Crayon's Story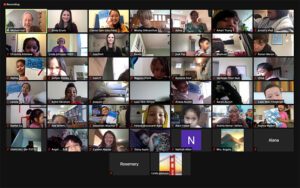 Excitement spread across the zoom meeting as the little boxes of young learners appeared on the screen. Ms. Lam welcomed all eager students into the virtual learning space with her guitar and a song. The students sprang into the familiar sign-in good morning ritual that typically begins their day. Next, Ms. Lam explained the classroom rules to prep the children for the thrilling commotion of a special guest.
Each student waited patiently for the honored guest to arrive. Finally, an orchestrated drumroll from the students welcomed the children's author.  Excitement exuded from each child when Michael Hall logged on to Zoom. Every student had something to say to the new Zoom member. 
"I have a loose tooth," "Look what I made," "I have a blue pencil like in the book."
Michael read two of his books, starting with Red: A Crayon's Story. The children eagerly listened to the tale of Red, which had been mislabeled. Even though his label said "red," he was, in fact, a blue crayon.
Red: A Crayon's Story is a touching book perfect for all young children. This tale shares the importance of seeing others for who they are instead of judging their outward appearances. Red gains confidence when his friend, Berry, encourages him to start drawing beautiful skies and vast oceans. Red needed someone who believed in him and encouraged him to be his authentic self. Red: A Crayon's Story shows kids to listen to their voice and what they know is true.
After the reading, Michael opened the floor for questions from the young learners. One student asked if all the crayons made a mistake in thinking Red was red.
Mr. Hall responded in a SEEDS-quality manner to the student's question, "Yes, he thought he was red because everyone told him he was red. Maybe if they had looked closer at him, they could have seen he was really blue."
Frankencrayon
The second book Mr. Hall read was the whimsical tale of Frankencrayon. All the crayons prepare to act out the story of Frankencrayon when someone sabotages the play by drawing a horrible scribble on the pages of the book – but the show must go on! The crayons work together to come up with a creative solution to get rid of the disastrous scribble. 
Frankencrayon is a fun mystery for kids of all ages. Hall's book is a great way to encourage kids to increase their problem-solving skills and practice predictions. By asking the students, "What do you think will happen next?" or "Who do you think drew the scribble?", the teacher encourages the students to infer story problems and predict potential solutions. 
Virtual Crayon Making Activity
The most exciting part of the virtual experience was the crayon-making activity led by Mr. Hall. The children's author guided the students through the essential steps for creating a crayon. The kids helped Hall melt the wax by rubbing their palms together. Then, the students smashed their hands together to crush the blue pigment. Next, the young scholars mixed the two ingredients. Finally, they poured the mixture into a mold and blew on their screens to cool it down. Voila! The group successfully made a stunning Azure crayon. 
Bringing in Mr. Hall to the SEEDS classrooms allowed for an enthralling change of pace for the students. Everyone was ecstatic to participate in the interactive event in a year without field trips or in-person classroom visitors.
Learn more about Michael Hall's books and events at his website: michaelhallstudio.com.